Covid-19: Accessing your new 365 account
Logging in to Microsoft Teams
We encourage staff and students to download the Microsoft Teams app to your desktop, and your phone. This will enable you to get the most flexibility from the software, and help you be prepared for your future online meetings. You can download the Teams app at https://www.microsoft.com/en-ca/microsoft-365/microsoft-teams/download-app.
You can also access Teams, and other 365 apps (Outlook – student email, Word, Excel, Powerpoint, OneNote, OneDrive) from the www.office.com login.
If you need help signing into your Columbia College 365 account, please contact the College IT department at http://help.columbia.ab.ca.
---
Signing into old staff College email
We will be continuing to send out e-mail updates to your Columbia College e-mail, please check regularly. To access your previous work e-mail (for College staff):
When asked to login, make sure you enter Columbia\ as the domain (see image below)
Use the password you would normally use to login to your computer at work.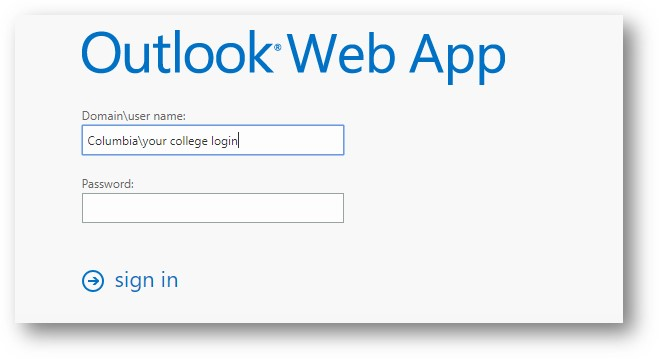 ---
If you feel unwell while on campus please follow these COVID-19 procedures