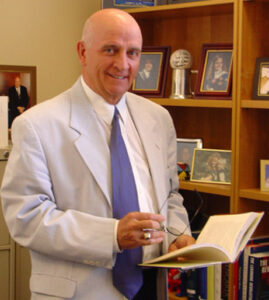 BIOGRAPHY
Tom is one of the founders of Columbia College. He currently serves as President of the College and Chairman of the Board of Directors for Columbia College. Tom was born in southern Alberta. He entered the University of Lethbridge Faculty of Arts and Science in 1970. After learning about special education, Tom transferred to a five year joint B.A., B.Ed. program. In January 1974, Tom moved his family to Calgary. He joined the Calgary Board of Education to take up a special education teaching position and completed his Master's Degree in Educational Administration in Washington.
Tom and Nola married in March 1980 and in June he was offered a program coordinator position at Mount Royal College. The Snell family (including 5 children) moved to Saskatchewan in 1984 when Tom took on the CEO (President) position of Cypress Hills Community College.
Since starting Columbia College in 1986 Tom completed his Doctor in Higher Education (1995) at Nova Southeastern in Florida. He has also taught management courses at the University of Calgary. Columbia College is now one of the largest private colleges in Alberta. Its graduates consistently achieve some of the highest marks in Canada on national professional exams. The college is positioning itself to offer undergraduate degrees as well as becoming one of Canada's first multi-cultural institutions.
On October 20, 2011, Dr. Snell received the "Wall of Fame" Award from Myers High School in Taber, his old high school. The award is given to Myers High graduates who have demonstrated outstanding service to the community.Tom is on several provincial committees, is active in community clubs and volunteer work. He works out several times per week. Tom enjoys spending time with his best friend (Nola), family members and when time permits - golfing.
Our success in the workplace is based on how proficient we are at utilizing our knowledge and skills and how effectively we conduct ourselves each day as professionals in satisfying the needs of our internal and external customers, and the goals of our organization. The following list describes many professional behaviours that can help us become more effective. The more skilled we become at applying each of these behaviours, regardless of our position in the organization, the more successful we will become.
Visit Columbia College's Success Page to review a wide range of documents designed to assist you in your desire to be successful, regardless of who you are, the position you hold or are aspiring to hold, or your career goals including Columbia College's Professional Code of Conduct.