Quality Education (International Comparison)
A recent study of effective educational practices was conducted by the University of Texas (Austin), and included almost 500,000 students from colleges across North America. This ongoing annual study, Community College Survey of Student Engagement (CCSSE), is considered invaluable to the extent that most state governments now require their colleges to participate in the survey if they wish to receive state funding.
The CCSSE survey is a tool that helps participating institutions assess quality of community college education, with a focus on good educational practices, and identify areas in which programs and services for students can be improved. Research shows that the more students actively engage with college faculty and staff, other students, and with the subject matter, the more effectively they learn and achieve their educational goals. CCSSE's national benchmarks of effective educational practice in community and technical colleges address these five issues: 1) Active and Collaborative Learning, 2) Student Effort, 3) Academic Challenge, 4) Student-Faculty Interaction, and 5) Support for Learners.
CCSSE benchmarks focus on institutional practices and student behaviours that promote student engagement, and correlate highly with student learning and persistence. Under normal circumstances, higher quality learning experiences are directly correlated with more engaged learners.
Columbia College students participated in the CCSSE survey in 2011, and results indicate that our students feel engaged as an active part of their learning experience; Columbia students are nearly 21% more likely to say they are engaged in active and collaborative learning than the national average. Additionally, Columbia College provides ongoing one-on-one support and works closely with students to address potential obstacles to success, further engaging students in learning experiences. Results indicate that Columbia scored above the national average on all five critical measures of effective educational practices aimed at actively engaging learners in their education. On two of the five indicators, Active and Collaborative Learning and Academic Challenge, Columbia College was in the category of "Top-Performing Colleges". Results from the five categories are presented below:
Comparing Columbia College Results on the CCSSE with Other Colleges in North America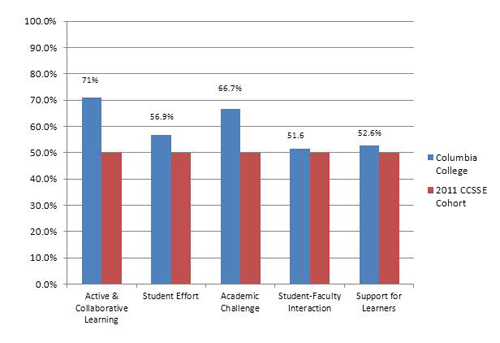 Student Satisfaction
With its commitment to continuous improvement, Columbia College conducts student surveys both at the conclusion of each course and at the completion of each program. These results provide our faculty and staff with valuable insights and opportunities to improve the delivery of classes and the composition of programs.
The following chart presents the results of these surveys for the academic year concluding August 2012. The chart consists of seven distinct areas, representing 47 unique survey items.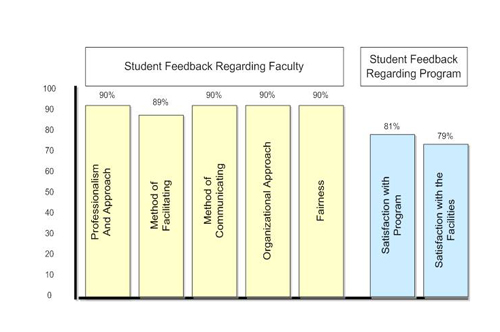 A Summary of the Four Stage Learner-Centered Model
Institutional Research
Introduction
Columbia's Institutional Research Department has three areas of responsibility:
To gather, organize, analyze and report on a broad base of decisions supporting information pertaining to the management of the College's Academic quality and effectiveness as an educational institution. This information base is called the Columbia College Customer Satisfaction System (CSS).
To develop and implement the College's Adult Learning Outcomes Assessment (ALOA) and assist in the development of plans for using ALOA findings to improve programs and services to students, employers, and the communities served by Columbia College.
To provide technical and scientific decision-support to meet the College's internal and external requirements for information about its services, markets and program development needs.
Columbia College's Customer Satisfaction System (CSS)
The system for assessing and managing the quality of educational processes as well as providing feedback for the improvement of those processes is known as the Columbia College Customer Satisfaction System (CSS). The CSS consists of a group of instruments and measures designed to monitor the educational systems involving student, faculty, curricular, and administrative services. Information from the CSS is most often used formatively for assessing quality and compliance, performing interim program diagnoses, evaluating faculty adherence to program standards and practices, and making resource decisions.
The CSS is comprised of the following three components:
Enrolled Student Satisfaction Survey
Students in all courses complete program satisfaction surveys which focus on student satisfaction with educational delivery, educational content, administrative, and environmental support. These measures are of significant value in diagnosing how well each component of the College's teaching/learning model is functioning in the service of student needs.
Student Comment System
Students are asked in each program satisfaction survey to provide specific comments, in their own words, about faculty, curriculum, College services, or any other educational matter of concern. Both theory and practical experiences suggest that these comments are a particularly valuable source
of information for evaluating programs and services. The Enrolled Student Program Satisfaction Survey provides valuable short-term indicators of educational impact.
Faculty Grading Practices
The accurate and fair evaluation of student academic performance is an important attribute of an effective educational program. Accordingly, measures of grade variance are reviewed by each program, for individual faculty members, as elements of feedback for self-improvement and compliance with College standards of good practice.
Internal Customer (Staff/Facilitators) Satisfaction Survey
To effectively and efficiently meet the needs of students, College departments must support each other with efficiency and quality. The Internal Customer Satisfaction Survey (ICSS) assesses interdepartmental service quality and reports the results College-wide for the purposes of self-improvement.
Adult Learning Outcomes Assessment Project (ALOA)
Graduate Satisfaction Survey
This alumni survey explores the quality and impact of the students' educational experiences on current professional performance.
Employer Satisfaction Survey
The unique mission of Columbia College to serve adult students requires that assessment be carried to the workplace. The employer satisfaction survey assesses and explores the organizational and economic impact of education. Employers are surveyed to obtain an impartial, long term view of the educational needs of employees and of the impact the College's educational programs have on meeting workplace needs.Information on Employer
Satisfaction is determined through a variety of means such as student practicum and work place evaluations.
Faculty Satisfaction Survey
This survey assesses the nature and scope of instructors' satisfaction as it relates to the College. Through surveys and interviews, faculty critically appraise the institutional structures designed to ensure faculty input in matters that affect them.
Uses of Information Gained Through the ALOA and CSS
The College uses information gained from all components of ALOA and CSS to improve the effectiveness of its curricula and teaching methods. Information learned from institutional research contributes directly to the value of Columbia College programs through improved program design and through its growing reputation for excellence. A further objective of Columbia's Institutional Research is the communication of knowledge gained from ALOA and other research-based activities to advance general understanding of adult learning needs and programs.
General Research Activities
The department conducts special studies on academic policy, program and organizational effectiveness, and marketing issues as needed to support institutional decision making. The department also provides research support and consultation to other College departments and programs.
Provincial Research
Upon successful completion of a government funded program, students will be contacted for up to a year, depending on the program, for employment related information. These calls keep our funders and students informed of the employment success rate of Columbia College students compared with other educational institutions. All information collected is strictly confidential.