About Columbia's Orange Shirt Day Fundraiser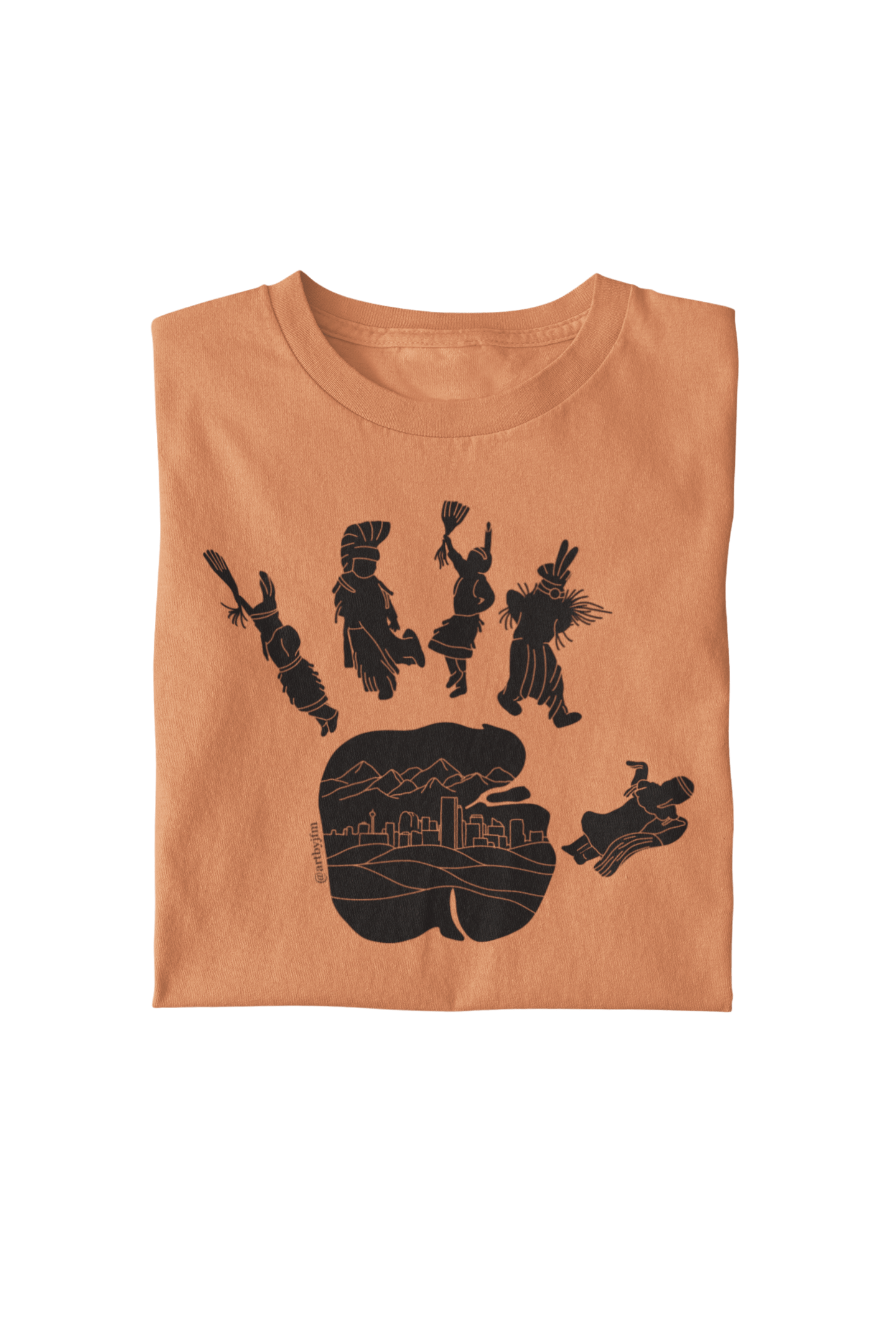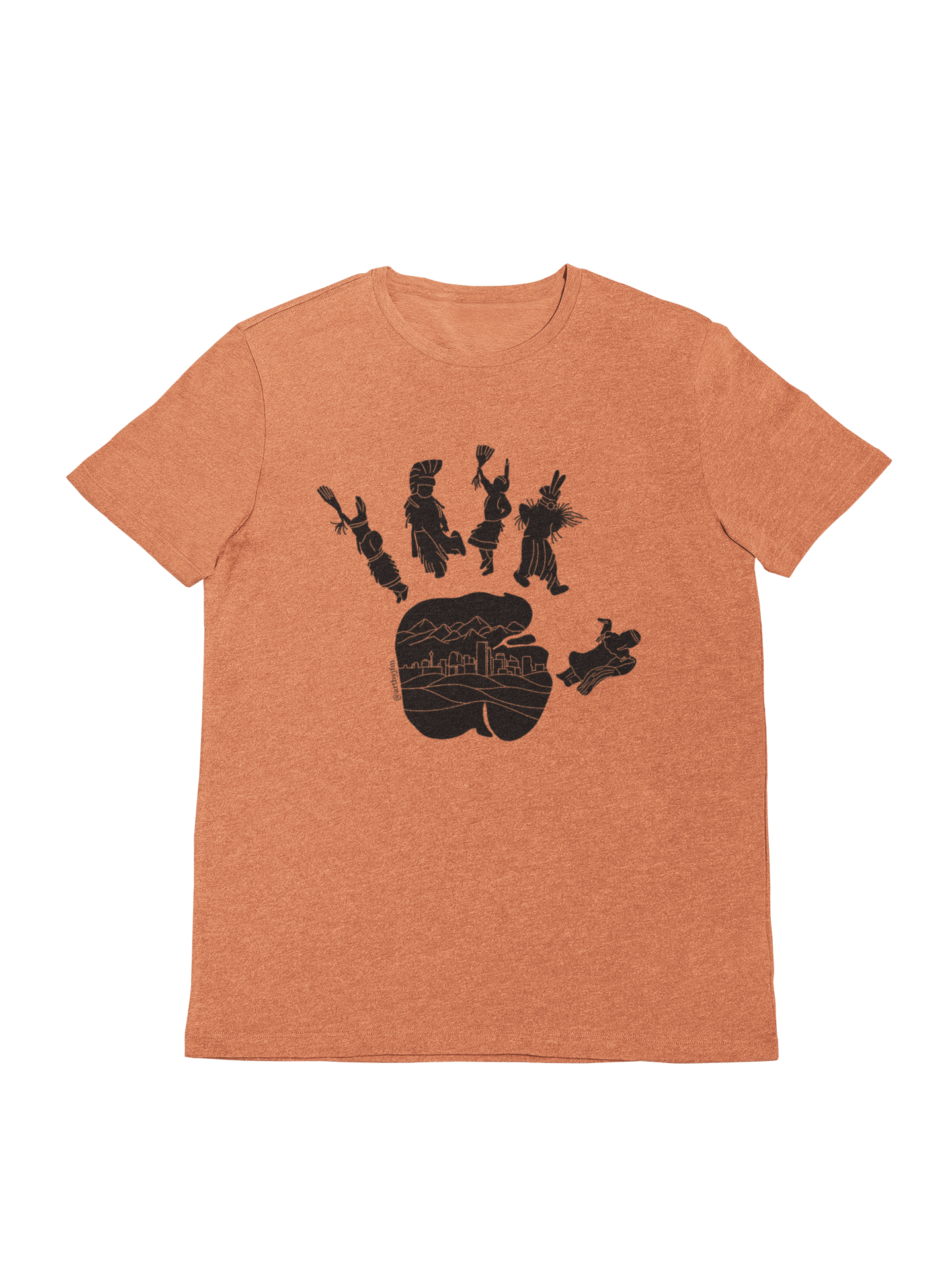 Pre-sale Window Closed. Check back next year!
Behind the Orange T-Shirt Design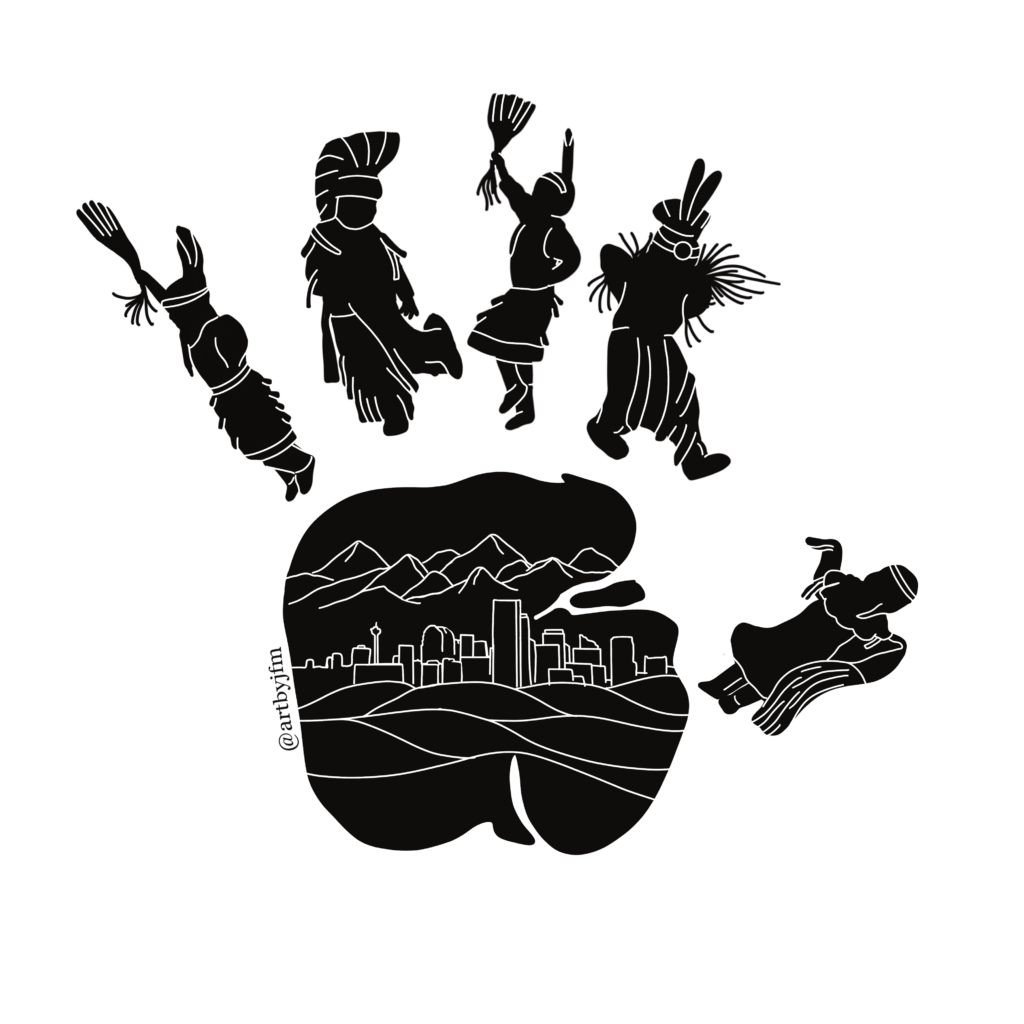 About the Artwork: Symbolizing Healing, Unity, and Resilience
The T-shirt design created by Jadyn Fischer-McNab for Orange Shirt Day is a profound representation of healing, unity, and the remarkable resilience of indigenous communities.
At the heart of the design is a handprint—a powerful symbol associated with Orange Shirt Day, Missing and Murdered Indigenous Women (MMIW), and the Truth and Reconciliation movement. Within this handprint, each finger uniquely tells a story. The handprint encapsulates the profound impact of these movements and the ongoing journey towards healing and justice.
The fingers of the handprint are meticulously crafted with images of children, symbolizing the innocence and vulnerability of young lives that have been affected. These images also represent a hopeful vision of children engaging in cultural activities that were once suppressed during the era of Residential schools—especially the art of dancing. This inclusion reflects the resilience of indigenous culture and the determination to reclaim traditions that were once denied.
The palm of the handprint serves as a canvas for a beautiful tapestry of imagery. It incorporates elements that are deeply rooted in the Calgary area—the majestic valleys and mountains. This imagery is a powerful symbol of connection to the region, highlighting the intersection of Indigenous heritage and the natural landscape. The depiction of Treaty 7 lands reinforces the importance of acknowledging the historical agreements that shape the land we inhabit.
Wearing this T-shirt is not only an expression of solidarity; it's a tribute to the stories of those who have been impacted by the legacy of residential schools, as well as a commitment to the ongoing process of reconciliation. The proceeds from the T-shirt sales will directly contribute to Indigenous causes and organizations, amplifying the impact of your support.
Join us in celebrating the rich cultural heritage, fostering healing, and promoting positive change through the captivating artwork of Jadyn Fischer-McNab.

About the Artist: Jadyn Fischer-McNab
Jadyn Fischer-McNab is a Cree artist who was born and raised in Calgary (Mohkinstsis), Alberta on Treaty 7 territory.
Jadyn studied at the University of Calgary where she received bachelor degrees in Kinesiology and Education in 2015 and 2018, respectively. Jadyn has worked as a full time junior high school teacher since she graduated in 2018. Jadyn also owns and operates her small stationery business, artbyJFM. She has products available online as well in a variety of stores across Alberta. Jadyn belongs to George Gordon First Nation and is an intergenerational Residential School survivor. Jadyn is passionate about breaking barriers and educating others by incorporating Indigenous ways of knowing and being into her art, her teaching and her life. Struggling with identity and internalized racism, Jadyn aspires to use creativity and art to inspire all to be unapologetically themselves. She lives in Calgary, Alberta
You  can check out more of Jadyn's Work on her Instagram page: https://www.instagram.com/artbyjfm