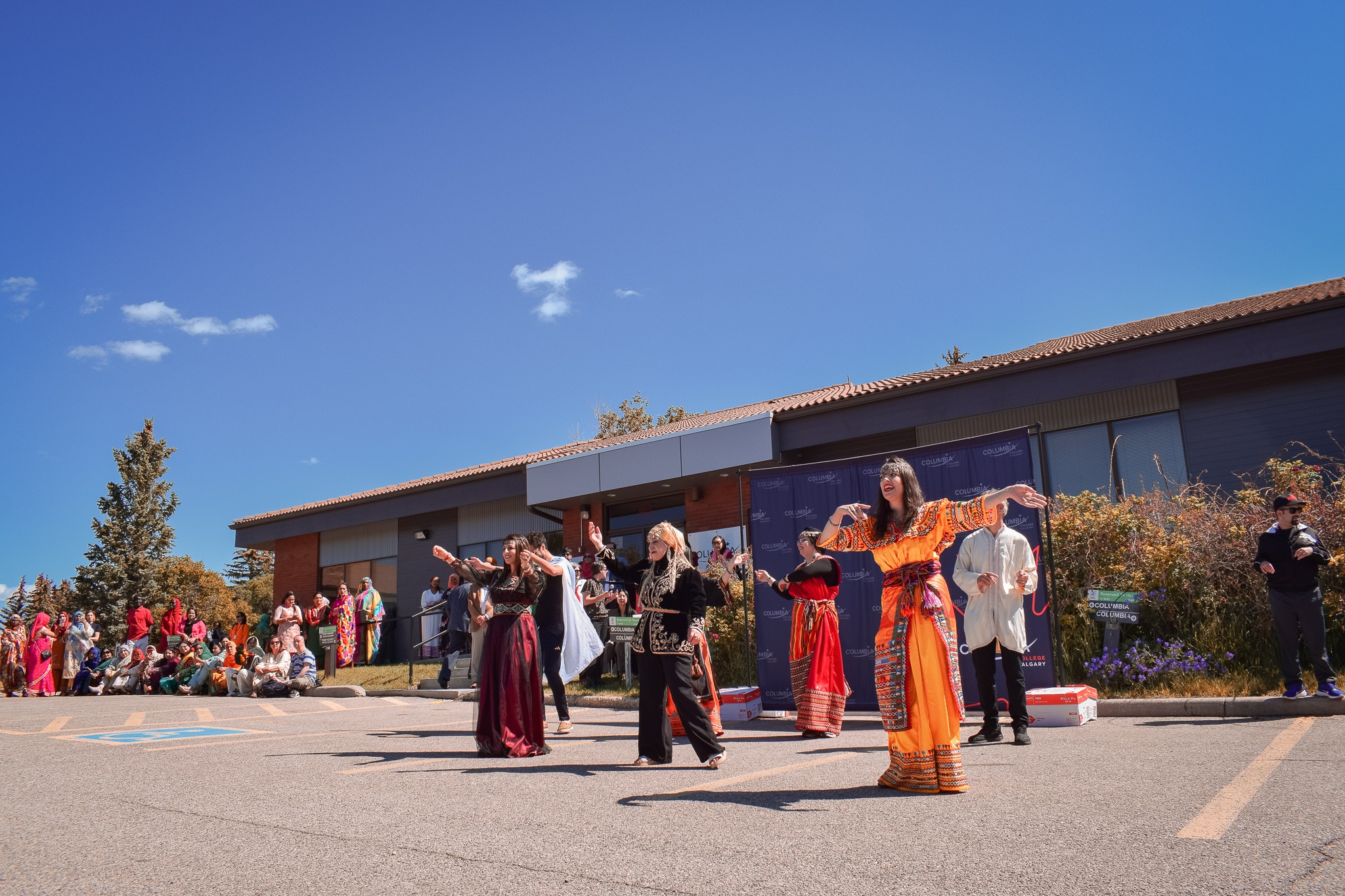 Celebrating the Success of International Day 2023
Categories

Blog

Date

June 23, 2023
On June 22, 2023,  we hosted our annual International Day, to celebrate and honor the diverse community of students and staff. This event was a remarkable display of cultural pride, promoting learning, appreciation, and inclusivity. With a packed schedule of interactive presentations, cultural performances, displays, and mouth-watering cuisine, International Day showcased over 56 countries, presented by Columbia College English as an Additional Language (EAL) and Language Instruction for Newcomers to Canada (LINC) students. 
Each of these countries contributed to the diverse and vibrant atmosphere of International Day at the college. To ensure a comprehensive representation of cultures, the countries were thoughtfully grouped into different classrooms based on the students from those countries who were part of our EAL and LINC programs this year. These classrooms became cultural pavilions, allowing attendees to immerse themselves in a wide range of cultural traditions, cuisines, languages, and customs from around the world. The countries featured at this year's International Day included:
Building 4
Brazil, Chile, Colombia, Cuba, El Salvador, Honduras, Mexico, Nicaragua, Venezuela
Iraq, Jordan, Lebanon, Yemen, UAE
Ukraine
Bangladesh, India
Canada
Ethiopia, Somalia
Eritrea
Moldova, Poland, Russia, Turkey
Afghanistan, Tajikistan, Kazakhstan, Iran
Building 805
Syria, Palestine
Pakistan
Algeria, Libya, Morocco, Tunisia, Egypt
Japan, Korea/South Korea, Vietnam
China, Hong Kong
Sudan / North Sudan, South Sudan
Cameroon, Guinea, West Africa (Ghana & Liberia), Congo, Kenya, Senegal
A Festive Schedule
International Day at Columbia College kicked off with a spirited start at 10:00 AM with the national anthem, "O Canada," and land acknowledgments. 
During the opening remarks, we announced the launch of the Columbia Immigrant Centre for Foundational Skills Training (CICFST), an exciting initiative that signifies a major milestone in the college's unwavering dedication to empowering immigrant students and providing comprehensive support for their educational and career aspirations.
The opening ceremony set the tone for the day, reinforcing the importance of unity and celebration within our diverse community. 
Cultural Fashion Show and Entertainment
One of the highlights of International Day was the vibrant Cultural Fashion Show and Entertainment segment, held from 10:30 AM to 12:00 PM. The stage came alive with a captivating display of traditional attire from around the world, showcasing the exquisite craftsmanship and unique styles that define different cultures. Models strutted with confidence, radiating the pride of their heritage and captivating the audience with their stunning ensembles.
Accompanying the fashion show were performances that showcased the immense talent and rich cultural traditions of the college community. From energetic dance routines to soul-stirring musical performances, attendees were treated to a diverse array of artistic expressions that transcended language and brought everyone together in joyous celebration.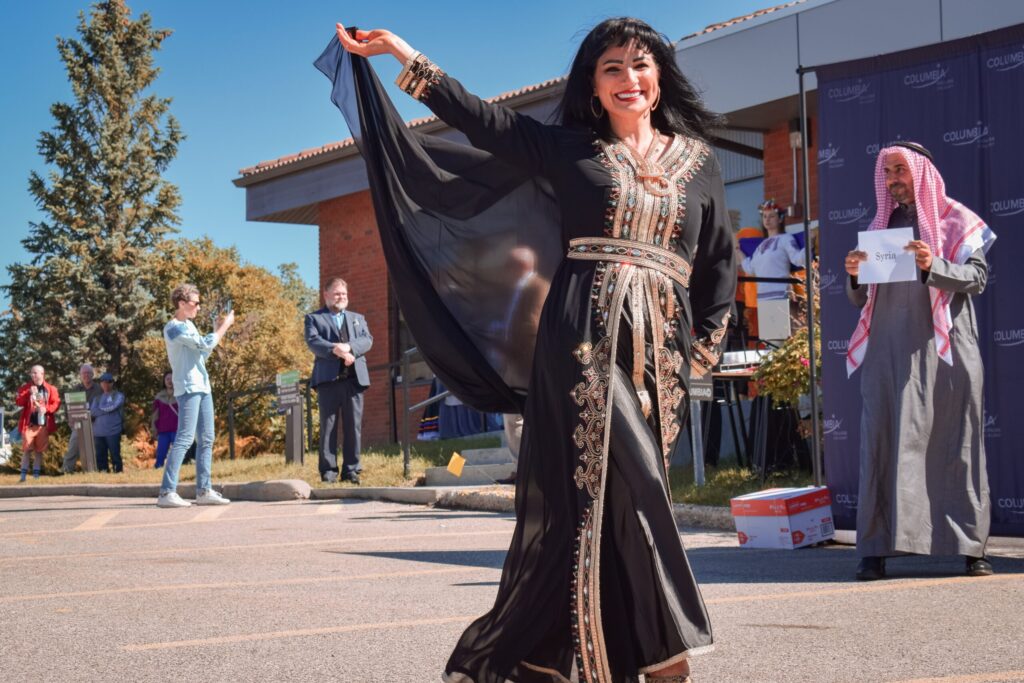 Visiting Cultural Pavilions
The afternoon session, from 12:00 to 1:30 PM, offered a unique opportunity for attendees to immerse themselves in the rich tapestry of cultures showcased at the event. The venue transformed into a vibrant cultural hub, with each pavilion representing a different country. Participants had the chance to explore and engage with displays highlighting the history, traditions, cuisine, and customs of various nations.
The interactive presentations at the cultural pavilions provided an enriching experience for attendees. EAL and LINC students took on the role of cultural ambassadors, sharing their knowledge and personal experiences to foster cross-cultural understanding. Visitors had the opportunity to ask questions, learn new languages, sample traditional delicacies, and appreciate the beauty and diversity of each culture represented.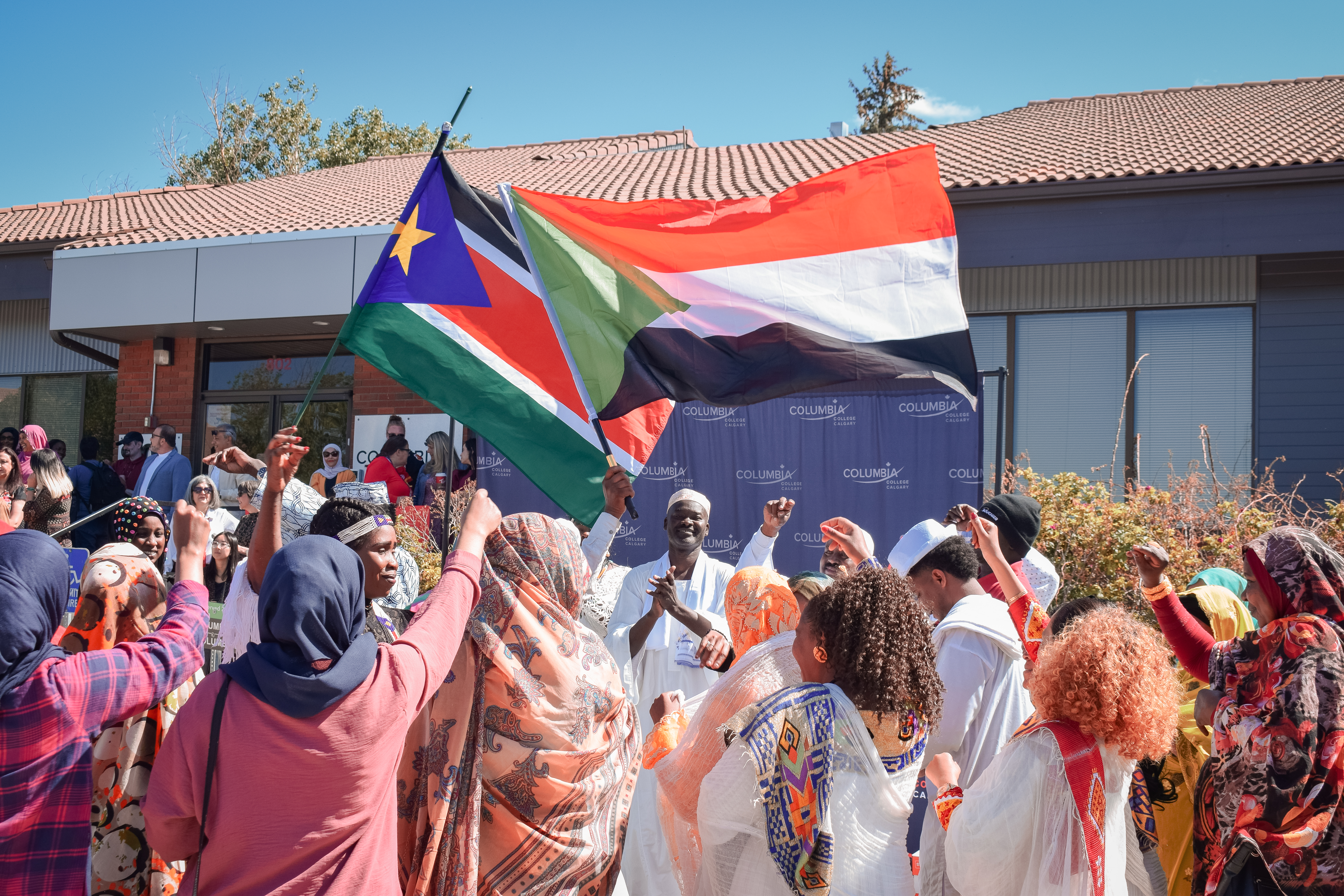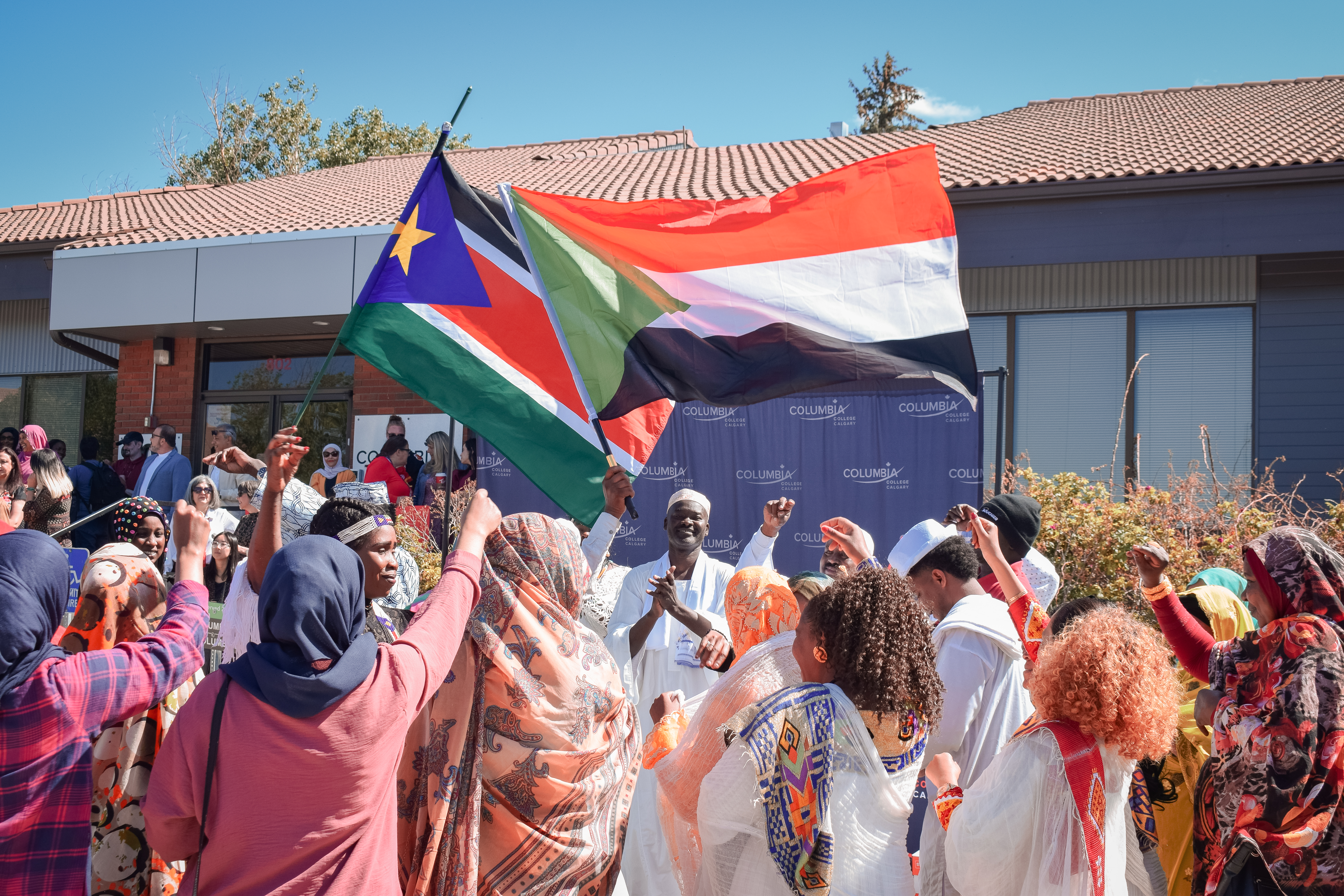 A Feast for the Senses
No celebration of culture is complete without indulging in its culinary delights. International Day at Columbia College featured a diverse array of international cuisine, tantalizing the taste buds of attendees. Food stalls lined the venue, offering an array of mouth-watering dishes from different countries. From aromatic spices to exotic flavors, the event became a culinary journey around the globe, allowing attendees to savor and appreciate the diverse gastronomic traditions of the college community.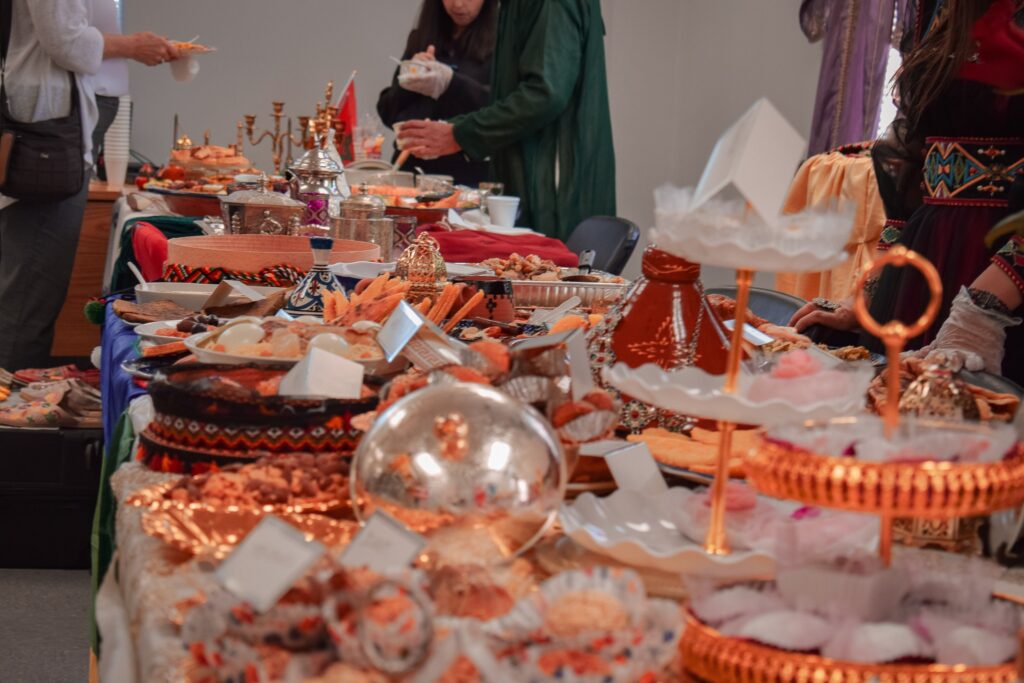 international Day at Columbia College was an extraordinary celebration of diversity and inclusivity. Through interactive presentations, cultural performances, engaging displays, and a delightful feast, attendees experienced the richness of over 56 countries and celebrated the cultures that make up the college community. The event successfully fostered learning, appreciation, and connection among students and staff, highlighting the importance of inclusivity and cultural exchange. International Day exemplified the college's commitment to creating a vibrant and inclusive environment, where individuals from diverse backgrounds can come together to celebrate their unique heritage and contribute to a harmonious community.