Orange T-Shirt Fundraiser 2023
Categories

Blog

Date

September 28, 2023
Saturday, September 30, 2023, marks National Truth and Reconciliation Day in Canada—a day of profound significance as we collectively acknowledge our moral responsibility to honor and remember survivors of Canada's Indian Residential Schools and Day School programs.
It serves as a reminder of our commitment to support survivors, commemorate those who did not return home, and advocate for those who continue to be affected intergenerationally. As part of the Truth and Reconciliation Commission's 94 Calls to Action, we stand together as a community in support of reconciliation efforts.
Columbia's Orange T-Shirt Fundraiser
We extend our heartfelt gratitude to everyone who participated in our efforts to support reconciliation by purchasing a Columbia College Orange Shirt Day T-shirt. Your enthusiasm and commitment have made a significant impact. We believe in the power of community, art, and giving back. Our Orange T-Shirt fundraiser, featuring the incredible artwork of Jadyn Fischer-McNab, beautifully exemplified this.
Together, we raised $1,750.00 in proceeds, which will be directed toward Miskanawah and Metis Calgary Family Services. This organization plays a pivotal role in nurturing the growth and well-being of children, youth, and families within a culturally responsive community. If you'd like to learn more about the remarkable work being done by Miskanawah and Metis Calgary Family Services, we invite you to visit their website at www.miskanawah.ca 
Raised for Miskanawah and Metis Calgary Family Services
Artwork
Symbolizing Healing, Unity, and Resilience
Jadyn Fischer-McNab's artwork played a pivotal role in our fundraiser's success. Her pieces go beyond aesthetics; they symbolize a narrative of history, resilience, and hope. To delve deeper into Jadyn's work and her inspiring journey, read her bio here and visit her Instagram, @artbyjfm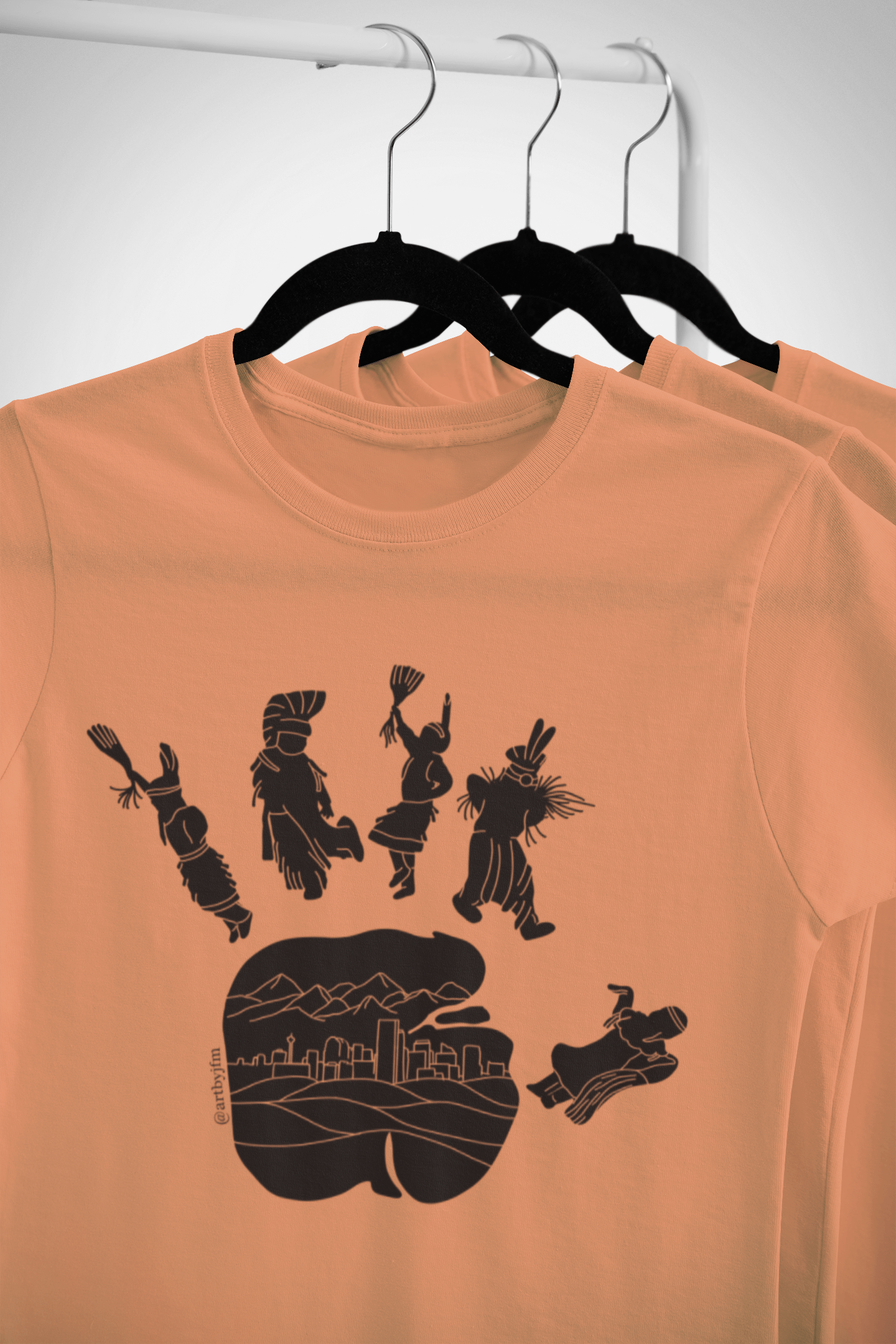 Your Role in Shaping the Future
While we celebrate the success of this fundraiser, we urge you not to let the momentum fade. The work of reconciliation is an ongoing journey, and there's more to be done. Here's how you can continue to make an impact
1. Learn and Reflect: Take the time to learn about the history and significance of Orange Shirt Day, residential schools, and reconciliation efforts. Reflect on your role in creating a more just society.
2. Support Local Initiatives: Explore ways to support local organizations like Miskanawah and Metis Calgary Family Services. They rely on community involvement to effect change.
3. Share Your Voice: Use your platform, whether it's on social media, at home, or in your workplace, to raise awareness and advocate for reconciliation.
4. Be a Lifelong Learner: Commit to ongoing education about Indigenous cultures, histories, and perspectives. Challenge stereotypes and misconceptions.
5. Engage in Conversations: Encourage open dialogues about reconciliation with friends, family, and colleagues. These conversations are essential for understanding and healing.
As we celebrate our fundraiser's success, we invite you to be an active participant in the ongoing journey toward reconciliation. Visit our fundraiser page to explore more about the cause.
Together, we can create a society that acknowledges the past, works toward healing, and shapes a brighter, more compassionate future. Columbia College is committed to fostering a community of action and understanding