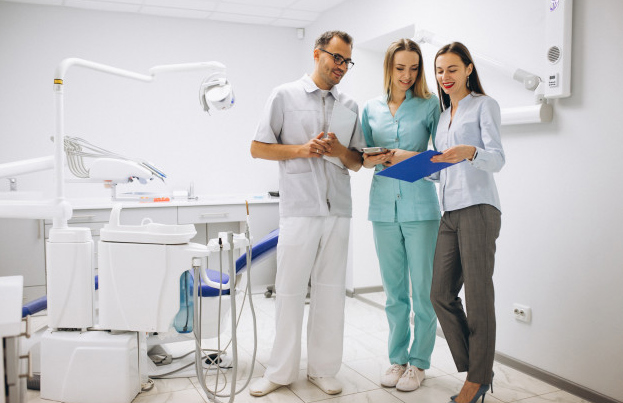 Understanding the Career Pathway for Dental Assistants
Categories

Blog

Date

September 16, 2019
Dental assisting is a career that is continually growing, and one that offers a significant amount of career opportunity. Dental assisting is not the same as a dental hygienist though both do work to help the dentist and the responsibilities of these two careers may overlap.
A dental assistant works to help the dentist to prepare for their patients. They may help to get rooms cleaned up or to restock items that the hygienist or dentist may need to care for the patients. Assistants often serve as the lifeline of the office by keeping the office organized and working with patients on administrative duties.
Dental technicians are a bit different still. They work in laboratories and help to create dental prosthetic, like bridges and crowns, and they do not work with patients directly. If you do prefer to work with patients, you may want to go to the dental assisting route rather than the technician route. Dental assisting does have a great deal of mobility, as you can use your experience to be a dental assistant instructor. Other opportunities for dental assistant include becoming a sales representative or continuing your education in the dental industry.
For instance, the Dental Assistant Continuing Education Courses you can choose from, include:
Orthodontic Module
Provisional Coverage
Dental Probing
Tooth Whitening,
& More
Graduating from a program with a high succession rate also allows you to start your career, sooner. Another attractive aspect of becoming a dental assistant is the average salary received for assistant in Alberta, which is $28/hour.
If you are interested in becoming a dental assistant, some programs allow you to graduate in as little as 30-weeks. Becoming a Dental Assistant offers a great career path as professionals in the dental industry continue to be high in demand.
Columbia College offers Dental Health Career programs, such as the Dental Assistant Professional Diploma, for students looking to accelerate their graduation and start their career with a combination of in class and real-life experience.