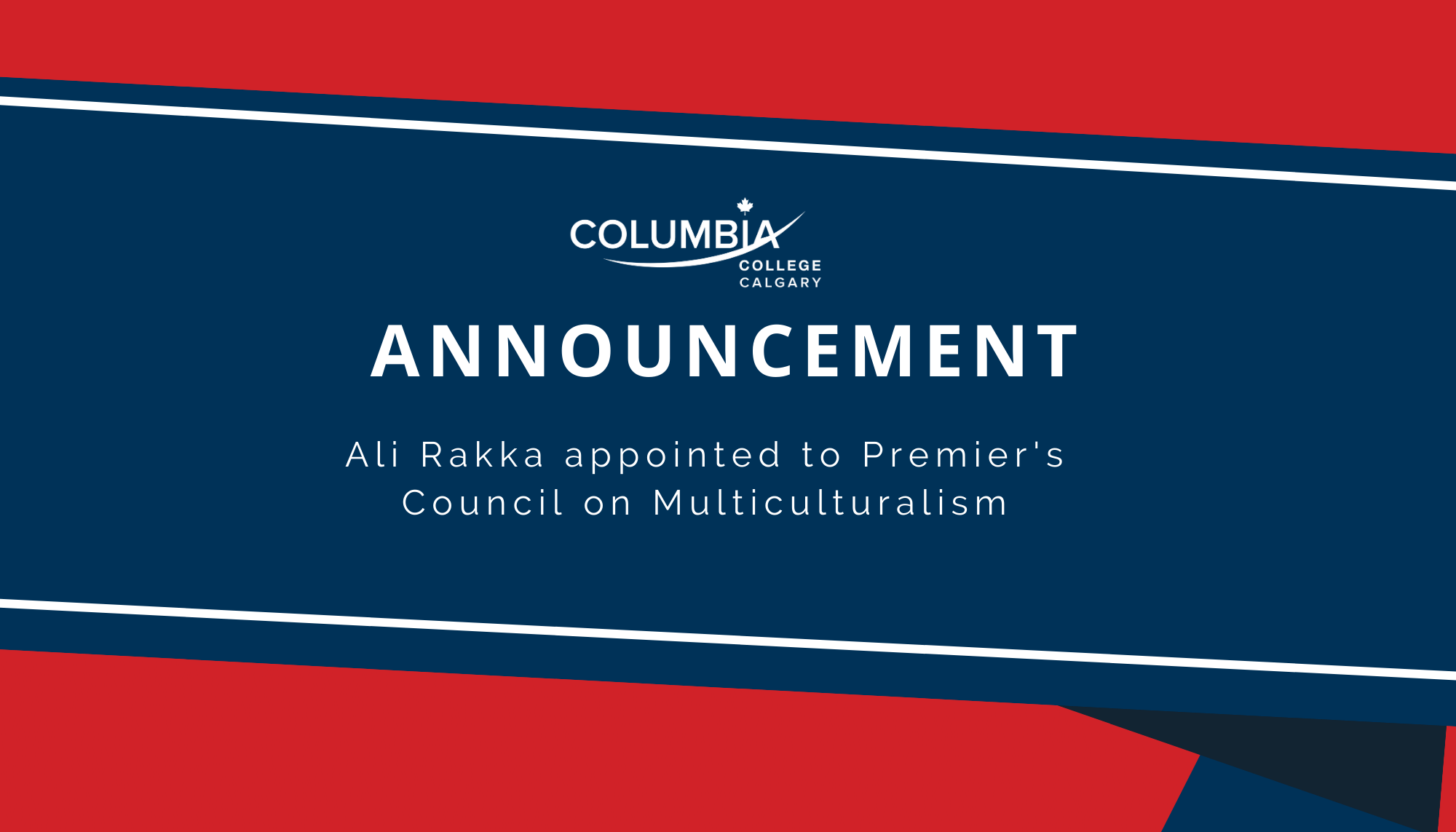 Ali Rakka Appointed to the Premiers Council on Multiculturalism
Categories

Blog

Date

April 14, 2023
We are thrilled to announce that Columbia College's Community Liaison Coordinator, Ali Rakka, has been appointed to the Premier's Council on Multiculturalism by Alberta Premier, Danielle Smith.
Alberta Premier Danielle Smith has taken an exciting step in promoting multiculturalism in Alberta by creating the Premier's Council on Multiculturalism. The council will consist of 30 members who will advise on ways to best support, inspire, and promote cultural diversity, social inclusion, and educational exchanges.
As Smith stated, "Alberta's diversity is one of our greatest strengths and is a key pillar in building a brighter future for everyone in our province." The goal is to shape a province where everyone feels they belong and where a person's culture, language, and religion are not only respected but valued.
The council will be led by Sumita Anand and Philomina Okeke-Ihejirika and will supplement the work of the Alberta Anti-Racism Advisory Council (AARAC), which was created in 2022. The council's creation is a significant milestone in promoting diversity, inclusivity, and multiculturalism in Alberta.
We are proud to announce that Ali Rakka, the Community Liaison Coordinator at Columbia College, was among the council members introduced today. Ali's appointment comes on the heels of Ali's recent recognition with the Queen's Jubilee Medal for his outstanding contributions to the community. 
Ali's work at Columbia College began in 2007, where he has since established and maintained positive relationships with community organizations, delivered presentations on the College's services, and provided outreach to diverse communities. His efforts have made it easier for new Canadians to access the necessary resources and achieve success.
Ali's appointment to the Premier's Council on Multiculturalism is a testament to his commitment to promoting diversity, inclusivity, and multiculturalism in the community. His dedication to helping new Canadians achieve their goals is a valuable contribution, and we congratulate him on his well-deserved recognition.
To learn more about the council's goals and objectives, and the positive impact that the council  will have in promoting cultural diversity and inclusivity in the community, we encourage you to watch the live recording of the announcement below:
Congratulations to Ali and all members of the Premier's Council on Multiculturalism! We look forward to seeing the positive impact you will have in promoting diversity and inclusivity in Alberta.