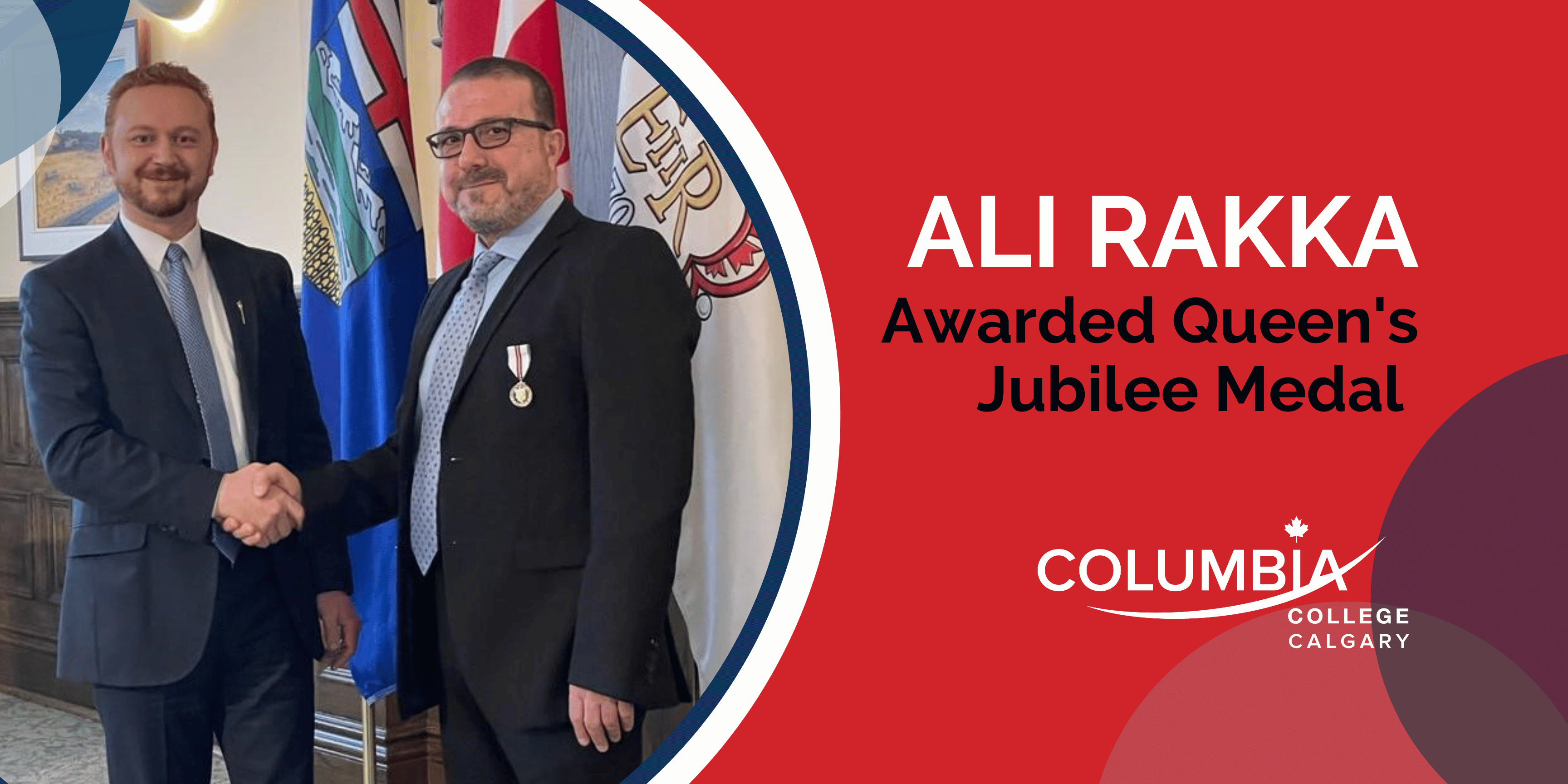 Ali Rakka: Awarded the Queen's Jubilee Medal for his Exceptional Community Contributions
Categories

Blog

Date

February 16, 2023
Ali Rakka, the Community Liaison Coordinator at Columbia College in Calgary, Alberta, Canada, was recently awarded the prestigious Queen's Jubilee Medal for his outstanding contributions to the community.
The Queen's Jubilee Medal is awarded to individuals who have made significant contributions to the community, and Ali is the second member of Columbia College's community to receive this honour, following the College's Founder and President, Tom Snell.
Ali's work at Columbia College began in 2007 after he completed academic courses and the Test of English as a Foreign Language (TOEFL) at the College. Since then, Ali has made numerous contributions to the College and the community, including establishing and maintaining positive relationships with community organizations, delivering presentations on the College's services, and providing outreach to diverse communities. His efforts have made it easier for new Canadians to access the necessary resources and achieve success.
When asked about how he felt upon learning that he was receiving the Queen's Jubilee Medal, Ali stated that it was an indescribable feeling. He explained that receiving the medal is a significant symbolic recognition of Her Majesty's 70th anniversary and introduces the Queen's role as the monarch of the UK and Head of the Commonwealth, as well as the history of Royal Jubilees.
The ceremony where Ali was presented with the award took place on February 14, 2023, at McDougall Centre. Ali felt both anxious and proud when receiving the medal from the representative of the Queen. He acknowledged that his years of service with the community had finally received valuable recognition.
Receiving the Queen's Jubilee Medal has not only been a great honor for Ali but also a source of motivation to continue his community involvement. In recognition of his contributions, Ali has been appointed as the Community Liaison Coordinator at Columbia College, where he will continue to work towards making a positive impact in the community.
Ali Rakka is an inspiration to the community and a testament to the importance of community involvement. His dedication to helping new Canadians achieve their goals is a valuable contribution to the community, and we congratulate him on his well-deserved recognition.
Congratulations, Ali!