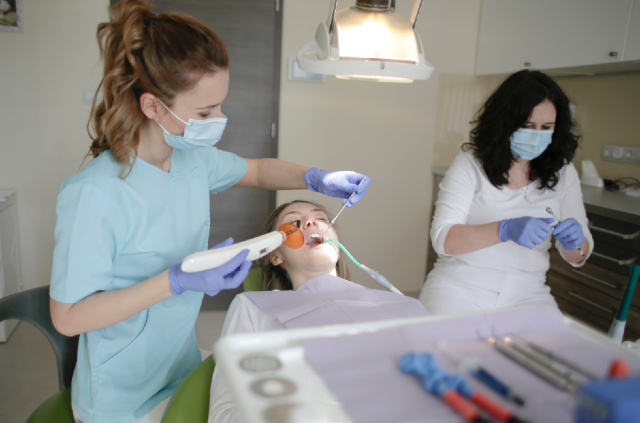 Everything You Need to Know About Becoming a Dental Assistant
Dental assistants are the dentist's right-hand person as they examine and treat patients day in and day out. They are crucial in making sure a dental office runs smoothly and efficiently. This article is for you if you want to pursue a dental health career and become a dental assistant.
What Does a Dental Assistant Do?
The specific details of a dental assistant's day-to-day job depend primarily on the dental practice that hires them. General duties include preparing all the dental equipment and materials needed before every appointment and directly assisting dentists with patient care.
Administrative work such as scheduling and collecting patient information falls under a dental assistant's purview as well. In some practices, dental assistants may also be tasked with working directly on patients, managing dental emergencies, and planning treatments.
Dental assistants are trained to perform these dental procedures:
Anesthetic application – Topical anesthetic is needed to numb an area of a patient's mouth to prepare for surgical procedures.
Teeth polishing – Plaque is removed from the tooth's surface and other nooks and crannies inside the mouth.
Sealant and fluoride application – These substances are placed on top of the teeth after every cleaning session to help prevent cavities.
Dental assistants practice in many different working environments, not just in private dental practices. They also work in hospitals, regional health units, insurance, and dental supply companies.
Becoming A Dental Assistant In Canada
There are over 20,000 dental assistants in Canada, approximately 74% of whom are certified or licensed. The average age is 38 years old, and 99% of them are female.
If you want to become a dental assistant, you will be able to find many accredited training programs across Canada. Each certification course has its own requirements for admission. Dental assistant programs provide training in dental radiography, clinical assisting procedures, community dental health, preventive dentistry, as well as microbiology and infection control.
Dental assistant courses usually last between eight to ten months. Depending on the course and the province, students may have to be placed in on-the-job training. Some training programs also require students to qualify for and maintain a CPR Level C certificate throughout their careers.
Dental Assistant Licensing In Canada
Most provinces require dental assistants to be licensed through the National Dental Assisting Examination Board (NDAEB), the governing body regulating all dental assistants in Canada.
To be eligible to write the NDAEB examination, applicants must be qualified as intra-oral (Level II) dental assistants through formal dental assisting education. The NDAEB exam is in two parts: written and clinical practice evaluation. The NDAEB certificate is a one-time acquisition that does not require annual renewal.
If you are moving from one province or territory to another, you should contact the Canadian Dental Assisting Regulatory Authorities (CDARAs) in your destination prior to moving. This will help prevent any issues that will keep you from entering the workforce once you arrive at your new province.
Conclusion
Highly trained, highly-qualified dental assistants are crucial to the success of any efficient dental team. They act as the dental hygienist's right hand during complex procedures and may perform dental work on patients, too. There are many dental assistant training programs across Canada, and these will prepare you to sit for the board exam to get your license. You can become a dental assistant within the year!
Are you looking for a dental assistant school in Calgary? Columbia College offers a variety of dental assistant continuing education courses. Our students have thrived in a stimulating, student-centred environment focused on their outcomes and their futures. Apply with us today!