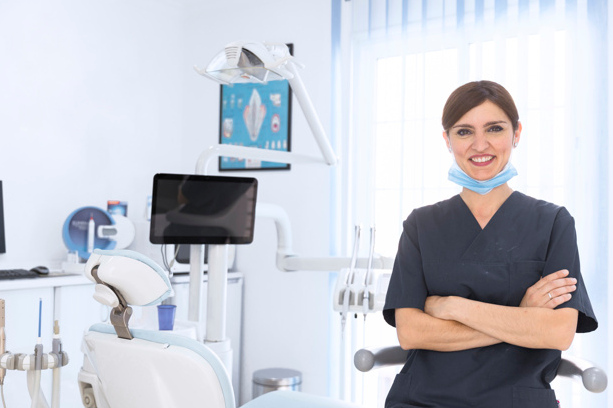 Understanding the Importance of Dental Assistants
Dental assistants in Alberta play a crucial role in all aspects of the dental industry. Graduates who successfully obtain a Dental Assistant Professional Diploma have the flexibility to work in a variety of positions, including:
Public Health Dental Assistant
Dental Specialty Assistant
Dental Assistant Educator
Denturist Assistant
Clinical Float Assistant
Infection Prevention and Control (IPC) Clerk (sterilization)
Continuing Care Coordinator
Dental Administrator/Receptionist
Financial Coordinator
Treatment Coordinator
Dental Hygiene Coordinator
Public Educator of Oral Health Prevention
Dental Lab Assistant
Dental Sales Representative
Dental Benefits Representative – Insurance Company
Every healthcare professional needs an assistant to look after the preparation and conclusion of a procedure or treatment. A dental assistant must make sure the treatment or procedure goes smoothly, and nothing interrupts or delays it. Many students enroll for the Dental Assistant Diploma because the environment can be fast-paced, enriching, and offers room for future growth. We will highlight some roles and responsibilities associated with this position to gain a better understanding of their job.
Coordinating Appointments
Taking care of the list of appointments for the day is one of the primary duties of an assistant and requires checking upfront with the patients when they arrive at the clinic. Taking note of everyday schedules and managing the dentist's appointments is another task that relies on assistants. A dental assistant will also seat patients and inform them if the process might take longer than expected. Assistants also maintain the schedule of the office, by calling to remind patients of their appointments or to follow up if a patient is late.
Looking After Patients
A dentist is a busy person and needs to focus on the procedure. A dental assistant's most crucial duty is to take care of patients while the dentist completes their commitment. Dental assistants play a significant role in how the patient experience's their visit, especially when they first arrive and in-between wait times for the dentist.
Patient Preparation
Dentists place a lot of trust in assistants for preparation of the treatment room. Understanding the procedure required for a patient and preparing the room and tools the dentist will need for a patient is one of the most important aspects of a process. This routine may include arranging the dental chair, positioning lighting, sterilizing dental tools, and more.
Assisting the Dentist
One of the best ways for a dentist to focus on a patient and concentrate on the patient is by having the reassurance that the dental assistant will remain supportive throughout the entire process. A dental assistant should always be ready for the procedure to be performed. A dentist depends on the competence of the dental assistant. A dental assistant should also be prepared to guide the patient through the procedure and request the patient to follow instructions.
Clarifying Next Steps for Patients
Once patients complete their appointment, dental assistants help them understand their next steps and timelines for their next appointment. Dental assistants often have the last interaction with patients which serves as an excellent opportunity to answer any remaining questions and schedule their next appointment, if needed.
The role of a dental assistant provides a tremendous amount of growth and opportunities in the dental industry. Whether students are looking to switch careers or follow their passion, Columbia College's accelerated programs allow students to start their career in as little as 30 weeks. For more information about the Dental Assistant Professional Diploma, click here.